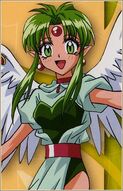 Finn Fish (Fin Fish) is a small female angel semi-angel who has a dream is to become a Full Angel. To do that, she helps Maron collect chess pieces. She does that by lending her own power to make Maron transform into Kamikaze Kaitou Jeanne to collect them. But Kaitou Sinbad with, Access time, dark angel and semi-angel, stand in their way.
Background
Edit
Finn Fish first appears as a Jun-tenshi (Semi-Angel) who wants to collect chess pieces so that she can help God become stronger and so that she can become a Full Angel.Helping Maron collect chess piecesAs the series progresses, more of Finn's past is revealed as well as the reason she was collecting chess pieces.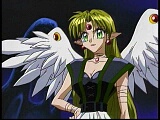 At the end of the series, Finn appears to be a Fallen Angel who claims that she has vowed to be with the Devil (She was called the queen.) and that she has been collecting the chess pieces for Him. In reality, she was brainwashed by the Devil himself and was sent to Earth to protect Maron as a semi-angel so God wouldn't suspect her. In the end of the anime, Finn realizes her wrongs and returns back to normal after Maron tells Finn that she loves her, hugging her.
In both the manga and anime, Access is in love with her. She is somewhat resentful towards Access, stating that he is a servant of the Devil, and that she doesn't like rude guys like him. She hits him from time to time when he tries to make a pass at her. At the end of the anime, she hints that she returns his feelings. In the manga, they become a couple shortly before the final battle with the Devil. Finn is killed during the battle, but is reincarnated as Maron and Chiaki's daughter. Access gave her his earring while she was dying. When Finn is reborn,Access,as a riencarnation as Miyako and Minazuki's son as a toddler,sees that she has the black earring on her ear, and says that he WILL marry her...in a few years when they are not 4 years old.
Community content is available under
CC-BY-SA
unless otherwise noted.