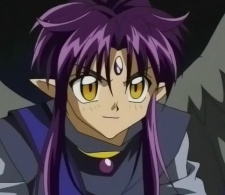 Access Time is a dark angel (the main reason for his black wings), and helps Chiaki when it comes to collecting chess pieces.
Personality
Edit
He has a mischievous nature, and sometimes teases Chiaki about liking Maron.
Appearance
Edit
Access has long purple hair. He has a grey body suit with a dark blue over coat, and waist band. The body suit cuts off at the wrists and ankles and has feathers at the ends of both the wrists and ankles. The over coat goes over the shoulders in a tank top style. The coat has a light-blue strap that goes over the right shoulder. The waist band is black. Access also has black wings that have red jewels on the tips on them
Background
Edit
He is in love with Finn Fish, and worked hard to become a full angel so he could be with her. When Finn is killed by The Devil, Access gives Finn his black earring as a memento, so that the two would meet again when she reincarnated as a human. He himself becomes a semi-angel and also dies. He is reborn as Shinji, the son of Miyako and Yamato. When Shinji is three years old, he recognizes Natsuki as the reincarnation of Finn by the earring she was holding after she was born, and proposes to her on the spot.
Relationships
Edit
Finn Fish: Access has a crush on Finn, but he gets rejected everytime.
Chiaki Nagoya: Access helps Chiaki detect demons and gave Chiaki the power to transform into Kaitou Sinbad.Chiaki and Access are really good pals.
Community content is available under
CC-BY-SA
unless otherwise noted.